Good evening to you all. I am a bit late in my post today. I have been so busy. We are dealing with the H1N1 flu in our home. My daughter Carissa contracted it while my nephew was visiting with us on Friday evening. We were all unaware that he was carrying the germ. He got sick on Saturday and Carissa on Sunday.
I have kept her in her room. She has been vegged out in her bed. It was scarey for few times for us when her temperature rose up to 103.3*F,I gave her fever reducers which worked great. It went up and down for a few days. She got up this morning feeling much better. I looked into her eyes and seen my baby girl again. She is still not 100% but she is on the road to getting better.
I wanted to share with you all a few pictures I took on a beautfiul Sunday afternoon.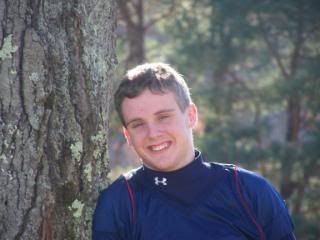 Jason, thinking hurry up mom!

Brandon being cool. LOL

Jason being so patient with mom

It took a few shots to get Brandon to stop laughing

As you may have guessed by now our Sunday afternoon photo session was mainly for me to get some pictures of the boys in the football jerseys. But I couldn't resist taking advantage of the surroundings to get a couple of shots of Carissa.

Carissa is growing up so fast

A little lady

I had to stop my photo session early because the batteries in my camera started going bad. I know, I know I should have had another pair with me. But I didn't,at least I got a few good shots of my growing gang.

Happy Homemaking