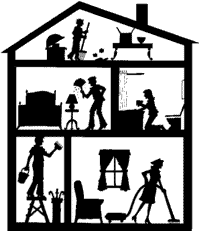 By now you should have your detailed lists for each room in your home finished. And you should have your daily cleaning list made as well. It would be a good idea to go ahead and start using your daily list for simple upkeep of your home.
Today's work is going to take you some time so work on as you have time to do so.
Get your lists and a pencil. I say pencil because you can erase if you need to. Now go through each and every list you made (except the daily list) and mark by each item this way.
W for weekly
B for biweekly
M for monthly
Q for quarterly
6 for every six months
and y for yearly
Look at each task you wrote down and determine how often you need to do that task. If it's washing the curtians you may not need to do that on a weekly basis so monthly or even quarterly would be more fitting for that job. Keep going until you have all the tasks you wrote down on all the papers(except for the daily list) edited.
That will be all you will do for today. Set your work aside and we will pick up from there.
Happy Homemaking
Creating your own cleaning routine part 1
Creating your own cleaning routine part 2
Creating your own cleaning routine part 3
Creating your own cleaning routine part 5