My daughter took this picture of me for Feminine Friday!!!! Nice little photographer isn't she! My hair is still wet so please exuse the craziness of it. The skirt is one that I couldn't wear for a long time now it fits and I have plenty of room in it!!!!! YIPEEE! We are getting ready for weekly grocery trip.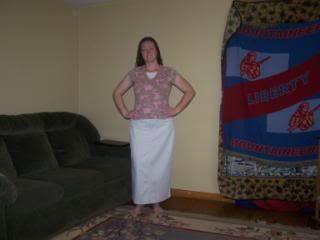 I have to tell you the story of the blankets on the doorway. That is the doorway into our masterbedroom,my husband works midnights at a pharmaceutical plant and there were bits of light that came through any cracks in the door. I enjoy a lot of natural light in my home and that ran right into our master bedroom so to keep that from keeping him away I put these blankets around the door for him. I sacrifice a pretty wall for my honey. : )
My daughter Carissa didn't want to be left out of the fun!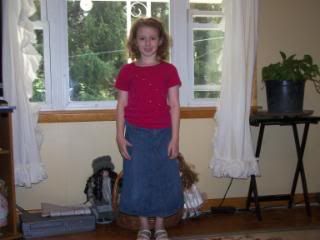 Well off to the store we go,after I fix my hair of course. LOL
The Happy Homemaker